Welcome | Sonny's Automotive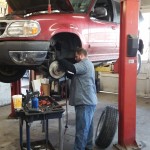 Sonny's Automotive is a full-service vehicle repair facility located in Wildwood, MO in West County. We are your perfect dealership alternative!  Sonny's has been repairing vehicles and making happy customers for over 50 years. 
Exceeding your expectations is a priority for us.  It's a simple way of doing business, but it works for us.

We will do our best to make your vehicle repair experience quick, painless, and easy. 

You can count on honest and fair pricing.    
---
What Type of Vehicles Do We Repair?
Sonny's works on most types of cars, trucks, vans, and classic cars, along with handicap and mobility vans. 

Domestic, foreign, and European vehicles.   

We don't work on ATVs or motorcycles. (Happy to give you the Powersports phone number we recommend).

Questions?  Give us a call.  636-458-2028  We are here to help.  There's no such thing as a dumb question.
---
Our Values
Customer Satisfaction – is guaranteed.  In other words, if it ain't right, we'll make it right.  No bull.
Competitive Prices – we encourage you to shop our rates and part prices against the other guys.  We're lower.
Honesty – you don't like surprises, and we don't either.  We'll tell you exactly what your repair cost is going to be.
Family – we consider you part of Sonny's family.  Therefore, expect to be treated as such. 
---
Waiting For Your Vehicle
You are not at the Apple Store.  We don't have iPads to test or double lattes to enjoy during your wait.    

However, we do have free Wi-Fi, a flat-screen TV, a waiting room, and coffee.  Sorry, no rental vehicles. 

Hungry?  Need a beer?  There's a restaurant, The Big Chief, within walking distance.    
---
5-Year | 100,000 Mile Transmission Warranty
Sonny's offers a 5-year or 100,000-mile transmission warranty. 

Enjoy peace of mind knowing the work we do is covered after you leave. 

Learn more here or contact Wayne at 636-458-2028 to set up an appointment.
---
Customer's Served 
Sonny's Automotive Repair has served thousands of customers from all over the Greater St. Louis area and outlying communities for over 50 years.  We wouldn't be in business if we weren't doing something right.

No matter where you live – Franklin County, West County, South County, St. Charles County, or St. Louis County, Sonny's is easily accessible from anywhere.    
---
Contact Us 
Phone: 636-458-2028

Email: sonnysautomotive1@gmail.com

Hours: 8:00 a.m. – 5:00 p.m. (Monday – Friday)

Holidays: Closed.  We're doing the same thing you are…relaxing.

After Hours: Drop-off service is available.  Drive it on over.  Find an open spot.  Put your key in our security slot, fill out the form, and we'll call you the following business day.
---
COVID Covered
We follow COVID-19 (Delta, Omicron, the newest variants) guidelines.  We sanitize all high-contact touchpoints in and around your vehicle.  The team cares about your safety and health.  
---
Leave A Review